Moral hazard and corporate rest-of-world profits
Promoted by Brendan
In a discussion with All-time QB a couple of weeks ago, I made the hypothesis that the domestic operations of U.S. corporations would have underperformed the market over the 2003-2007 period, because companies were getting increasing percentages of their profits from overseas during the period because of the declining dollar.
Today, I found the data, and as it turns out, I was off the mark. Offshore profits did not begin expanding as a percentage of total corporate profits when the dollar began falling.
Here's the corporate profit data splits during the Bush Administration:

Quarter	Total 	Domestic Rest-of-world
Q1 2001	789.8	649.7	140
Q2 2001	759.8	615.8	144
Q3 2001	697	550.9	146.1
Q4 2001	811.4	646.7	164.7
Q1 2002	797.6	665.6	132
Q2 2002	785	669.9	115.1
Q3 2002	771	654.9	116.1
Q4 2002	934.9	767.9	166.9
Q1 2003	927.1	778.4	148.7
Q2 2003	1022.8	874.3	148.5
Q3 2003	1124.2	966.5	157.7
Q4 2003	1129.1	913.3	215.8
Q1 2004	1165.6	960.3	205.3
Q2 2004	1173.9	988.6	185.3
Q3 2004	1118	929.3	188.7
Q4 2004	1219.5	1040.9	178.6
Q1 2005	1288.2	1094.8	193.5
Q2 2005	1347.5	1150.3	197.2
Q3 2005	1293.1	1069.9	223.1
Q4 2005	1393.5	1197.2	196.3
Q1 2006	1569.1	1343	226.1
Q2 2006	1591.8	1351.9	239.9
Q3 2006	1653.3	1418.7	234.6
Q4 2006	1531.2	1253.5	277.8
Q1 2007	1547.7	1249.8	297.9
Q2 2007	1642.4	1327.8	314.6
Q3 2007	1621.9	1280.9	341
Q4 2007	1569	1172.2	396.8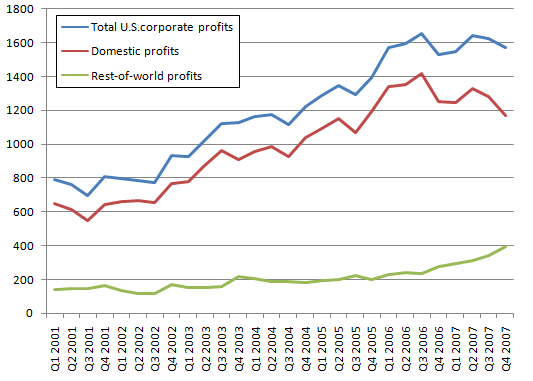 Annualized corporate profits of U.S. companies, in billions (source: Department of Commerce)
Total profits and domestic profits both peaked during the third quarter of 2006. Before then, offshore profits as a percentage of total profits had maintained a relatively constant level during the Bush Administration, representing slightly below 20% of the total profit mix. Since then, domestic profits have commenced a marked downtrend, while offshore profits have continued in an uptrend. In fact, the rate of increase in offshore profits has accelerated upward. Since the peak in total profits in Q3 2006, offshore profits have shot up 69.1%, while domestic profits have fallen by 17.4%. Offshore profits now make up more than 25% of the total profit mix of U.S companies.
I have to admit that the data is not at all what I expected. I would have expected that rest-of world profits would have started rising in comparison with domestic profits nearly simultaneously with the beginning of the fall of the dollar, as companies doing business offshore converted profits earned in units of the stronger foreign currencies into more of the weaker dollars than before. But, as we can see from this dollar index chart (borrowed from seekingalpha.com), the dollar began falling with respect to foreign currencies in late 2001-- almost 5 years prior to any noticeable divergence between domestic profits and corporate profits! So, what's going on here? What changed around 2005 or 2006 that might have caused foreign profits to accelerate upwards even as domestic profits turned down?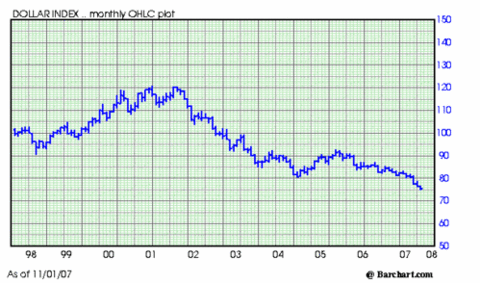 One item that immediately comes to mind is the tax holiday in 2004 that allowed U.S. corporations to repatriate offshore profits at a miniscule 5.25% tax rate
, rather than the normal 35% corporate income tax rate.
When this tax holiday was passed, it was sold as a "one-time" event, and if it really were a one-time event, then there shouldn't be much of a continuing incentive to produce profits offshore. However, as with Rolling Stone farewell tours and the one-time tax rebate checks in 2002, one-time events often are repeated. If U.S. corporations began expecting after 2004 that they would once again be able to repatriate dollars during some future tax holiday at miniscule tax rate compared to the tax rate on domestic profits, would they restructure their businesses or make more investment overseas to take advantage of this expectation?
Let me put it to you this way: If you had reason to believe that you might only be taxed at a fraction of your normal tax rate on work that you did on, say, Thursdays, would you start doing more work on Thursdays and less on other days?
And sure enough, there's been talk of another tax holiday for offshore profits. Senator Ensign (R-NV), the architect of the previous tax holiday in 2004, tried to pass a 2008 tax holiday for offshore profits
onto the economic stimulus bill. His amendment was defeated
-- this time. But with rumblings of a son-of-stimulus package already being heard around Washington, Ensign may get a second shot.
The Center on Budget and Policy Priorities has this
to say:
Senator Ensign's proposed repatriation measure suffers from the same basic problem that plagues most other business tax breaks offered as stimulus measures: it would infuse cash into large, profitable corporations unlikely to spend it quickly, and so would have little effect in stimulating the economy in the near term. Evidence from the 2004 repatriation tax holiday confirms that such a provision is more likely to provide a windfall to shareholders than to promote substantial new U.S. investment.

In addition, the Ensign Amendment would not only be ineffective as stimulus, but would also create significant new problems for the economy and the tax system. A repeat of the 2004 tax holiday will lead firms to expect more tax holidays, with the unfortunate result that they will be more inclined to invest in tax havens and less inclined to reinvest earnings in the United States.
The data suggests that corporations are already behaving as if they expect more tax holidays for foreign profits. As has been frequently mentioned with regard to the "one-time" 30 billion dollar Bear Stearns bailout: a one-time government measure aimed at business is not simply a one-time measure, no matter how loud and forcefully government claims that the measure is only a one-off event. Businesses naturally come to expect that government will act similarly in the future as it has in the past.
If you're a stockholder of U.S. multinationals, profits made overseas are just about as good as profits made here in America. But overseas profits are not at all as good as domestic profits to the Federal Government, because, as you probably have guessed by now, corporate taxes are only assessed on the domestic profits of U.S. companies. Unless companies bring offshore profits home, they are not taxed by the Federal government. So that 17.4% decline in domestic profits over the past 5 quarters equates to a similar decline in corporate tax revenue, unless corporations repatriate their overseas profits. And why would they, when another tax holiday might be just around the corner?
So when government comes knocking on your door to make up the difference, you might want to thank Senator Ensign and his moral hazard.
Submitted by
skymutt
on Fri, 2008-04-18 00:20